In the photo, past chapter and North Carolina Color Guard Commander Jim Tatum leads the NCSSAR Color Guard during the large grave marking ceremony at Centre Presbyterian Church in Mooresville, NC, November 2018.
Public grave markings and events, with our flags, period uniforms and muskets, are our most visible elements in helping people remember the people and events of the Revolutionary War, especially around Mecklenburg County and the Carolinas.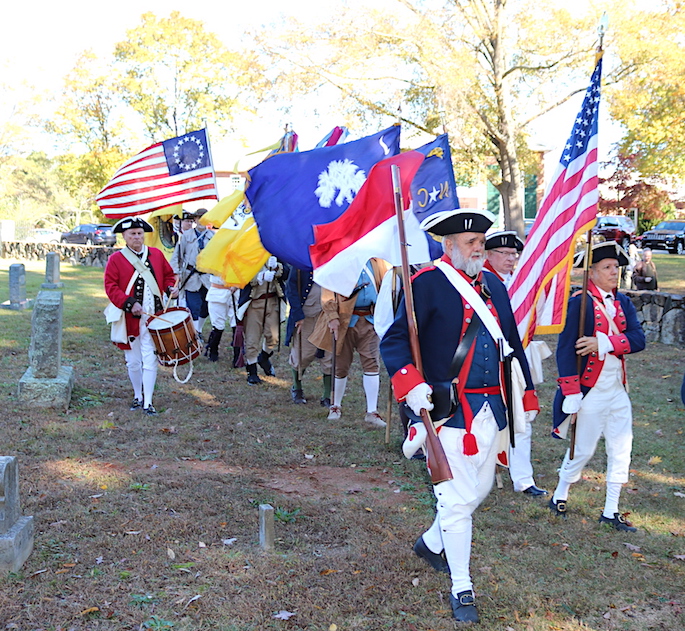 Color Guard Uniforms – SAR Tailor
"Accents by Moggy"
Tailor for SAR
11 Grove St. North, S
Dahlonega, GA 30533
[email protected]
678-429-4181 
The House of Flags Museum – A Fun & Education Excursion!
The purpose of the House of Flags Museum is to properly display a unique and comprehensive historical collection of over 300 United States, military, state, and international flags including all 27 full-size official U.S. flags from 1776 to 1960, and to provide educational experiences to elementary school children, high school students, and adults of all ages. The House of Flags Museum is located at 33 Gibson Street, Columbus NC 28722. You can call them at 828-894-5640.
revolutionary war patriot profile
Born December 16, 1756 in Butte (now Warren) County North Carolina 
Died June 12, 1843 in Spartanburg County South Carolina 
Married Susan Elizabeth Mayfield July 1777 
Married Nancy Burns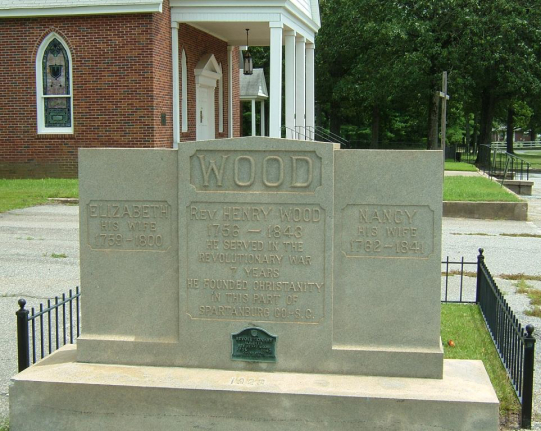 He served in the North Carolina Militia under General Thomas Eaton and Captain Henry Sullivan Guinn and Colonel Herbert Haynes.
He was called to serve on March 1, 1781 and with his unit marched to High Rock Ford on the Haw River. Here Henry requested permission to joint the Light Infantry commanded by Captain White, with whom he had served under in a previous tour.
With this infantry unit, he marched to Guilford Courthouse and was in this engagement. Henry Wood was in the first line of defense at the Battle of Guilford Courthouse.
Following the Revolutionary War, he moved to South Carolina where he started a Methodist Meeting House which today is known as Woods Chapel United Methodist Church in Greer, SC.
At his death in 1843, the Greenville Mountain Times noted in his obituary "Rev. Henry Wood espoused the cause of liberty, was a local preacher of the Methodist Church for the last 50 years and left a large circle of relatives and friends." He is buried in the front lawn of the church that carried his name.
Mecklenburg chapter members may add small profiles of their ancestors by emailing them to Bryant Trombly at [email protected].